Thanks to decades of innovation in improving engine technology, today's cars, trucks and other vehicles are cleaner and quieter than ever. More stringent regulations worldwide are driving manufacturers to redesign products to meet more ambitious standards while addressing customer needs for better efficiency and lower fuel costs. So too are changing societal attitudes about environmental sustainability. People demand — and deserve — fewer emissions and less noise in the areas where they live, work and play.
Both factors help explain the move toward electrification, most visible in Europe and within the automotive sector.  At Caterpillar, we are ready. In fact, we've been investing in electrification for decades. Our engineers hold numerous patents in this space, and Cat®electrified products are at work on customer sites around the globe. Innovation comes standard on every product we make, and we're convinced that electrification is a technology that brings key benefits to our customers.
WHAT IS ELECTRIFICATION?
At Caterpillar, we define electrification as "making a machine, product or system operate using electricity when it did not before." Electrification, along with high-efficiency energy conversion, is one of five key pillars in our technology strategy. Electrified equipment, in the right application, can benefit customers in each of our major industry segments through fuel savings, increased environmental sustainability, greater durability and higher productivity. Since the customer value proposition is quite diverse, so is our range of solutions.
CUSTOMER REQUIREMENTS COME FIRST
For some customers, generating zero emissions is the goal; for others, it's burning less fuel or increasing power density. Customers won't sacrifice quality, reliability or durability to achieve these objectives. That's why our electrification strategy begins and ends with customer needs — and why we're pursuing not a single solution, but a versatile approach that lets us match the right product to the application. That includes:
Fully electric products. Featuring single or multiple non-engine electric power sources, these products are best suited for environments where eliminating emissions is key — underground, indoors, urban areas and some agricultural segments. Many of our electric rope shovels, draglines and oil and gas compression products have long been fully electric. In 2017, we created a proof-of-concept R1300 underground loader with a battery-electric powertrain, which is now driving the development of our next generation battery-powered R1700 Mining Loader.
Diesel-electric products. Connecting an engine to an electric generator, AC drive motor or other source of electric power, these products are ideal for operations where using less fuel is a priority. Our D7E dozer, which first went to work in 2009, features a diesel-electric powertrain that delivers up to 30% better fuel efficiency — saving customers millions of litres of fuel over the last decade. Other examples of diesel-electric products in our portfolio include the 794 AC and 795F AC electric drive trucks and Electro-Motive locomotives.
Hybrid products.  Working alongside an engine, numerous other power sources — batteries, tethered or cable-powered electric systems, hydraulic accumulators, high-speed flywheels — can reduce emissions and improve efficiency. Our marine hybrid propulsion system delivers full diesel-mechanical power in work mode, then switches to more efficient diesel-electric operation for less-demanding applications. Our hybrid energy solutions provide renewable electric power to stationary locations in remote areas via a combination of generator sets, solar and energy storage building blocks.
CAT ELECTRIFIED PRODUCTS AT BAUMA 2019
As they look for more reductions in CO2 emissions, many of our customers in Europe are seeking out electrification solutions. That's why we've made it a priority to showcase a number of our newest electrified products at bauma 2019. Visitors to the show will get an up-close look at the:
D6 XE dozer, the world's first with high drive electric drive, which improves fuel efficiency up to 35%
988K XE wheel loader, which features a high-efficiency electric drive system with switched reluctance technology
300.9D VPS mini excavator, which produces zero emissions when connected to a remote power unit
906 compact wheel loader, a concept vehicle with a fully electric drive train powered by a lithium-ion battery
COLLABORATION DRIVES INNOVATION
Developing the right electrified products for our customers' diverse needs isn't something we're doing alone. Our dealers around the world are on the front lines of the electrification movement — adapting existing Cat products to specific regional or jobsite requirements. Several of these machines are on display at bauma as well.
Cat dealer Zeppelin, for example, has been working with Caterpillar to develop a tethered, electrified material handler primarily for use indoors. Zeppelin has also adapted a Cat 302.7D CR mini excavator into a dual-power machine that can switch between a standard diesel engine or a cable-powered electric motor. And Pon Equipment is building eight fully electric excavators, based on our 323F model, for the Norwegian market that will run on electric motors, controllers and heavy-duty batteries.
WHAT HAPPENS NEXT?
Though every industry we serve is unique, our customers share many goals — among them working more productively, efficiently and cost-effectively. To help them adapt to electrification more quickly, at a lower cost and with less risk, we'll be applying tried-and-true concepts across industries, applications and products large and small. At the same time, we'll also continue to seek the breakthrough innovations Caterpillar is known for, putting both bright minds and research and development dollars to work to make sure our customers have the tools to succeed in a partially or fully electric future.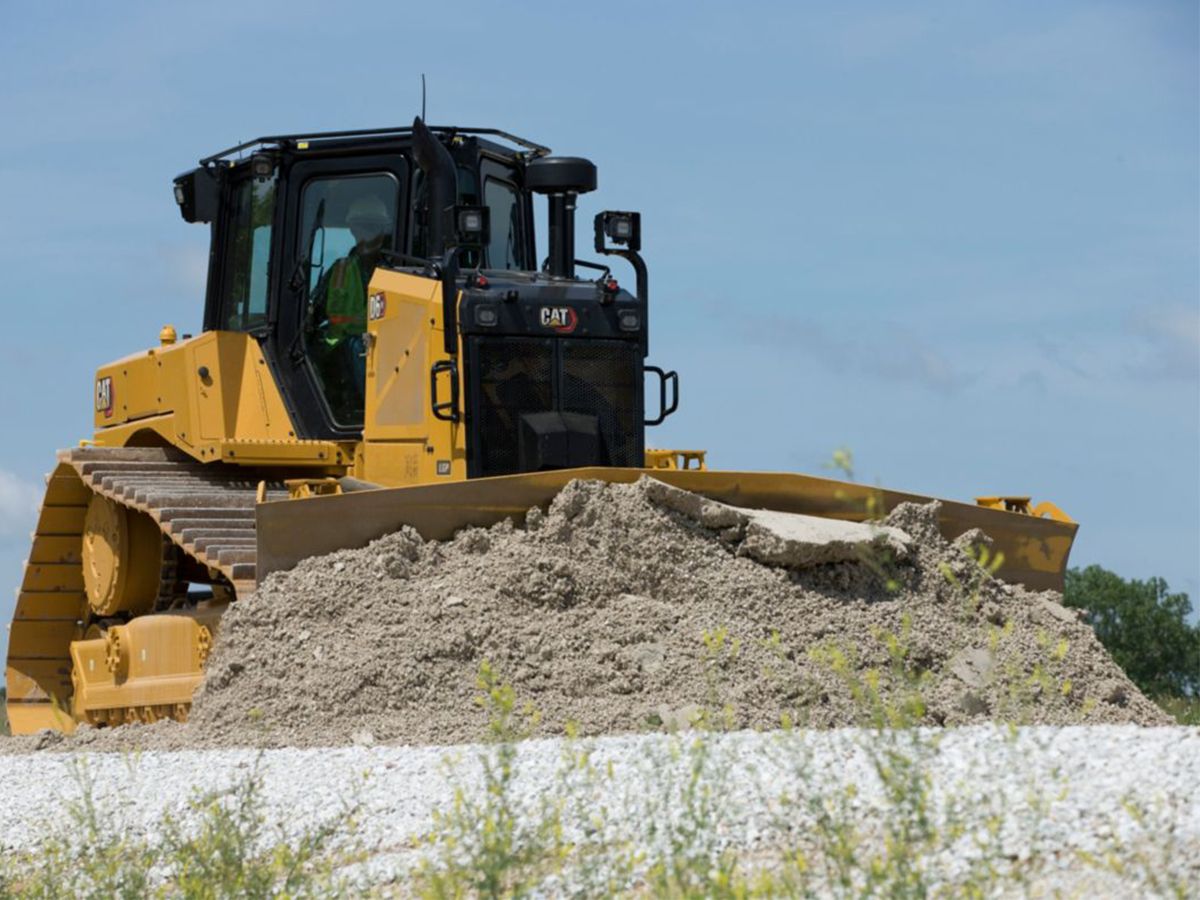 Cat D6 XE dozer