A local subcontractor is promoting the safety of its working practices and fleet of Hitachi construction machinery on the A6 Dualling Scheme in Northern Ireland. RB McGeary Contracts' approach is proving invaluable to the Graham Farrans Joint Venture (GFJV) on the important road construction project.
GFJV appointed RB McGeary Contracts as the main subcontractor for the specialist, intricate work on existing and new utilities (telephone, electricity and water) involved in the upgrading of the A6. "We use RB McGeary Contracts for their specialist skills and good safety management," says Robin Kirkpatrick, Project H&S Manager.
"It's also good to see their fleet of new and well-maintained Hitachi machines on site. We obviously have a big emphasis on safety when it comes to plant working near pedestrians, so 360-degree vision around the equipment is vital to safeguard them."
The owner of RB McGeary Contracts, Ronnie McGeary, agrees: "There is an element of risk in our work, but we follow a safe working practice and run Hitachi zero-tail swing machines. These are very precise, and for example have motion sensors, flashing beacons and hose rupture valves – and as a result, we have an excellent safety record."
Based in Donaghmore with 14 employees, his company now has 12 Hitachi machines at its disposal: two ZX33U-5s, two ZX38U-5s, two ZX65USB-5s, one ZX130LCN-6, three ZX135US-6s, one ZX210LC-6 and one ZX225USLC-6.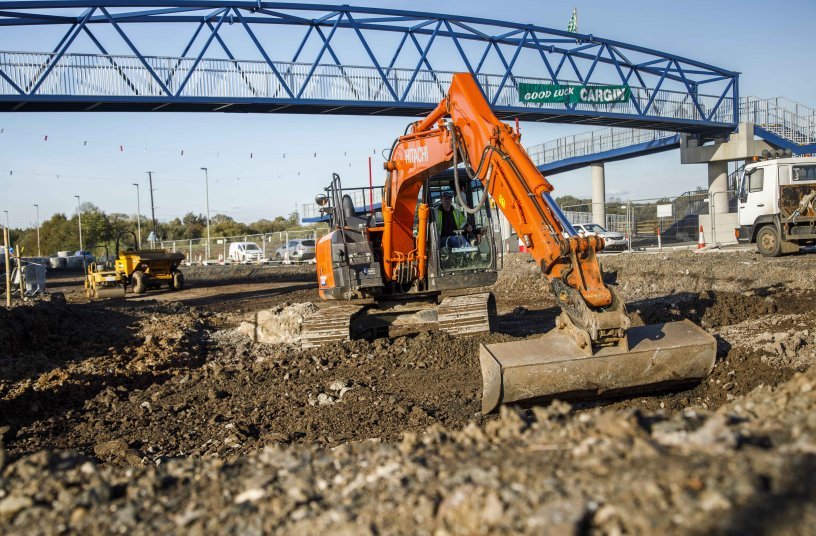 Optimum machines
"The ZX33U-5 and ZX38U-5 are perfectly suited to our work," explains Ronnie. "They provide the optimum digging depth and can be easily transported on our 7.5-tonne truck. We usually change our machines every three years and benefit from the strong second-hand values of Zaxis excavators.
"We have experienced very little downtime. If there is a breakdown, our local Hitachi sub-dealer, TBF Thompson, is extremely helpful. They always send one of their service vehicles to us within an hour of our initial call."
The operator of the ZX130LCN-6, Seamus Loughran, says.
"This is a comfortable and solid machine, and very good in confined spaces. It's also incredibly precise, smooth, and easy to handle and control – it really does make the work easy for me! Reliability is one of Hitachi's strong points and I could drive them for the rest of my life!"
Delivered by the country's Department for Infrastructure, the A6 Dualling Scheme is improving 14.7 kilometres of the North-Western Transport Corridor between the M22 at Randalstown and the Castledawson roundabout. This route is used by 18,000 vehicles each day, which often results in congestion at key times.
The £160 million (€180 million) investment will strengthen the links between Northern Ireland's two largest cities (Belfast and Derry/Londonderry). It will also bring long-term benefits of reduced journey times and improved safety to road users and the local community.
Source: www.hitachi.com