Since June 2019, around 93% of part orders by Cleary Bros (CB) have been placed online, which has made their warehouse run a lot smoother. Find out how Parts.Cat.Com (PCC) improved internal processes at CB.
Cleary Bros (CB) has been in operation since 1916 and is still run by descendants of its original owners. Over a century ago, CB started selling and carting wood, before moving on to carting out of a local quarry, before finally stepping it up to earthworks and transport.
In 1958 John, Dennis, Brian and Jill Cleary took over the business and have led it to become a major player in the Australian construction industry.
Based in the Illawarra region, CB specialises in construction industry services across NSW and at its heart, it still operates as a family operation.
Kevin North is CB's Works Plant Workshop Manager. He's been working with the company for 29 years now, starting as an apprentice at 16 and working his way up. He knows Cleary Bros. He knows the construction industry.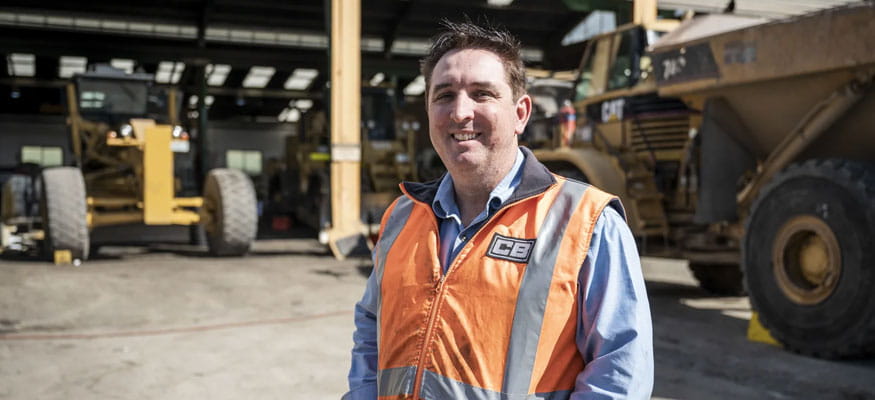 Strong relationships are vital
Kevin has been in his current role for the past three years and says that building strong and lasting relationships with partners, suppliers and vendors are vital.
"We've just had a new rep from WesTrac come on board who is settling in and getting a feel for the way we operate. He feels like a member of our team. That's really important. We have things that need to happen urgently and, in our industry, you need to know that you're dealing with someone who doesn't see you as just another customer. Greg Graham, the CEO of WesTrac, knows our CEO. Everyone who we deal with at WesTrac knows us and we know them, it feels personal," Kevin adds. "We deal with a lot of people at our local WesTrac branch and it always feels like we're a high priority. If there's a problem with a courier and apart doesn't get delivered on time, WesTrac quickly gets it sorted for us. Sometimes they'll even intercept a truck if things don't go to plan!"
Cleary Bros have been dealing with WesTrac since 2004. To maintain a 15-year relationship takes work and Kevin's the first to say it.
"Relationships are built up over the years," Kevin says firmly. "WesTrac's system and parts supply are second to none – nine times out of ten, if we want a part overnight, they'll deliver it. We run an hourly hire business so we need to deal with someone who can make things happen."
93% of CB's part orders are placed online
Running the works plant for a busy company like Cleary Bros is a complex task. You never know what to expect, or when to expect it. "You get runs when it's flat out and I haven't got time to think," Kevin notes. So any little thing that helps make doing business easier gets Kevin's tick of approval. Since June 2019, around 93% of CB's part orders have been placed online, which Kevin says has made their warehouse run a lot smoother. The graph below shows CB shifting from phone orders to online ordering over the course of 2.5 years.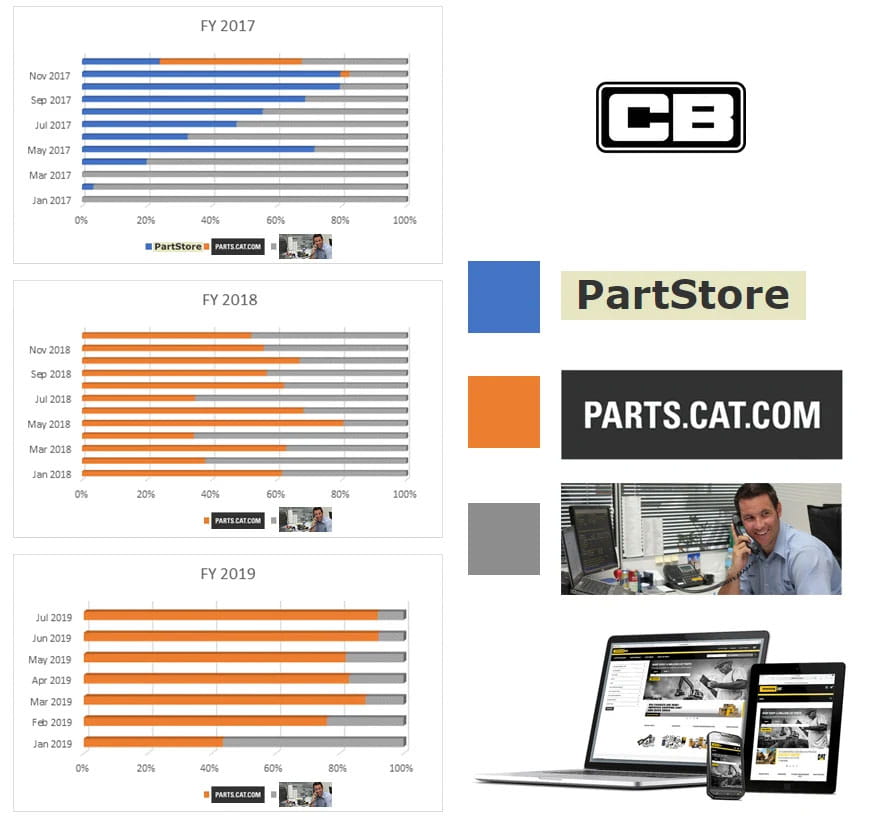 PCC makes it easy
As evidenced by the dash of orange at the top of the graphs above, Cleary Bros were among the first group of customers to move to Parts.Cat.Com (PCC) in late November 2017. "PCC is easy-to-use," Kevin says. "It streamlines ordering and is not tying things up. You can place a full parts order in minutes. You can also see where the parts are at any time. So if they're in Sydney and we need a part urgently, we can go pick it up from the branch or one of their new Click & Collect lockers."
"We're a local workshop, but we've got a field workshop, guys. Most of our hire fleet is on hourly hire, but some contract jobs in the mine are 24/7. It's very important for us to have parts quickly – the time is actually money if our machines aren't working. Now we have five people who can order parts any time, wherever they are, on any device, using PCC."
"We can order anything from two-cent O rings up to tracks for 30 to 40 grand. We've even ordered a 60 grand engine!" Kevin states.
"We pretty much buy everything online now – we're self-sufficient."
PCC is a website that is fit-for-purpose and easy-to-use. In short, it does what it says on the box. "For the parts, we buy regularly, we're able to use frequent order lists, which cuts our order time in half. With PCC, we can see the parts we regularly order, click them and they'll be delivered the next day. Comparing that to doing it over the phone is like comparing apples to oranges. I won't miss the phone, that's for sure!"
Kevin particularly likes the 'any device' functionality of PCC. "You don't have to be sitting down at a computer to order parts anymore. Our field service blokes out in the middle of nowhere can look up parts on their phone and send through an order, without needing to rely on anyone else to help process the order."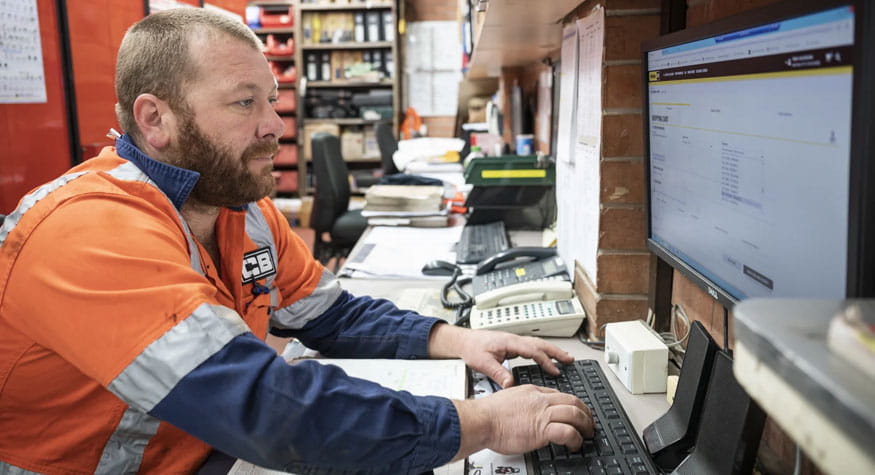 Parts ordering back in the day
Moving parts ordering online has streamlined the process for Kevin.
"Originally when WesTrac took over 15 years ago, we'd order everything over the phone. But when we moved on to the dealer system we started ordering online."
Using PartStore for machine information via WesTrac's online service manuals was the start of CB's online journey. They could look up part prices and availability online and then email purchase orders straight to WesTrac. As technology has evolved, so has CB's relationship with WesTrac.
CB is a company that prides itself on delivering quality customer service to every client, which is why WesTrac takes equal pride in delivering for Cleary Bros the service they so richly deserve.
Source: Westrac