The Michelin XD Mineworks tire is designed with a new tread pattern and new depth to deliver even wear and minimal maintenance.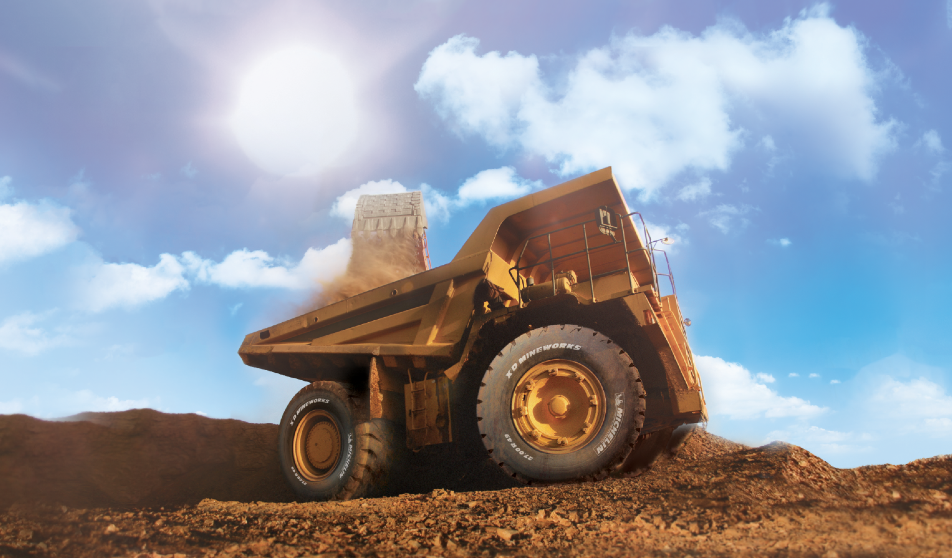 This tire can:
Handle heavy loads at lower pressure than competitor tires;
Provide good balance between TKPH and wear resistance;
Protect against aggression with a tough tread design.
Handle heavy loads at lower pressure
Thanks to tough cables and innovative architecture, the Michelin XD Mineworks tire allows operators to run on .5 bar less than competitor tires (1) which:
Increases aggression resistance
Increases tread cut resistance
These innovations are designed to deliver big benefits for the operator and the equipment:
Better driver comfort
Less stress on the chassis
Improved suspension
Designed for balance between Tkph and wear resistance
Better wear resistance even at a high TKPH thanks to the "High wear resistance" compound delivering the same TKPH as a "Lower wear resistance" compound.
Tough and Aggressive Tread Design
The robust and dependable tread was built to meet the needs of difficult conditions. With this tread you can expect:
Even wear with a design that minimizes irregularities over time
Minimized stone retention
Protection from cuts and aggression
Non-directional tread
Michelin's complete 49" tire portfolio
Technical Specifications
Source: Michelin
Html code here! Replace this with any non empty text and that's it.