According to the world's biggest machinery and heavy equipment auctioneers, India is emerging as an important buyer market for used Middle Eastern mobile cranes and heavy lifting equipment.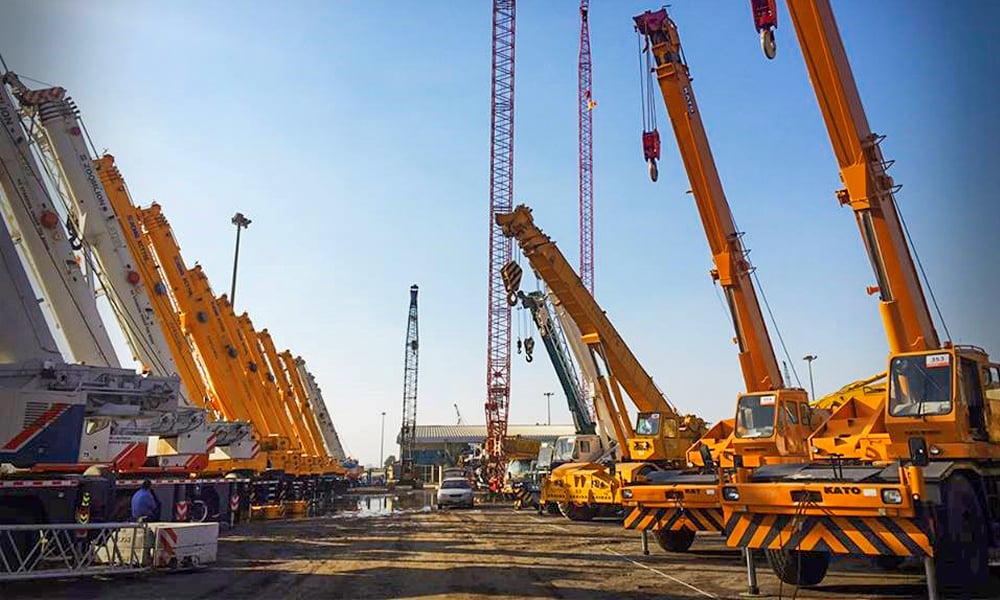 In 2020, Ritchie Bros. Middle East experienced a gradual increase in demand from Indian buyers at its Online Timed Auctions, with sales of some mobile crane categories increasing by three times compared to the same period the previous year. Although crane sales in India are at the early stages of growth, the company will focus more of its marketing efforts on the Indian buyer market in the future.
According to Ritchie Bros. auction results, since COVID-19 lockdowns started in March 2020, many civil and infrastructure construction projects in the Middle East continued unaffected due to long project life cycles and resultingly did not have an immediate impact on the heavy lifting industry.
However, as this sector is heavily dependent on the oil, gas and energy segments, a prolonged period of low global oil prices has resulted in decreasing regional demand for new and used mobile cranes. An exception has been crane purchases by Indian organizations from online auctions, which are currently proving to be more effective at accessing new international buyer markets for surplus Middle Eastern mobile cranes and heavy lifting equipment.
"In a year of volatility, selling prices of used cranes have remained relatively stable," said Piet Kraaijeveld, strategic account manager, heavy lift & crane sector at Ritchie Bros. International.
Ritchie Bros. has seen increased interest from crane owners, particularly in its quarterly Online Timed Auctions. In these online auctions the seller gets access to a global audience of motivated buyers.
Mr Kraaijeveld commented, "Since the crane industry is heavily dependent on the oil and gas and energy sectors, it is understandable after the 2014 drop in global oil prices that many crane companies changed their asset and fleet management strategies to remain viable. Traditionally the oil and gas producing nations had the densest crane population in the world. We are now seeing this shift to non-oil producing nations such as India and some parts of Africa. If cranes are under-utilised, they will no longer be profitable. As a result, over recent years, more used cranes have become available on the market as companies divested assets to re-adjust their balance sheets, mainly due to the lack of new project work."
He adds, "At Ritchie Bros. we are humbled to be able to provide crane and lifting equipment sellers with a range of online asset disposition solutions that connects them to interested overseas buyers and offers market value for their surplus assets. By continuously monitoring global transaction statistics, we can gather the latest insights and identify significant trends in the crane trade market worldwide. Following our recent market analysis, a range of critical new statistics emerged – most notably a significant increase in crane buyer demand from India. Our advanced online infrastructure continues to successfully connect these buyers and sellers by expanding their reach and facilitating online, cross-border sales throughout this challenging period," concluded Kraaijeveld.
At Ritchie Bros.' most recent December online auction in Dubai, over 1,200 online bidders registered from 83 countries and more than 40 per cent gross auction proceeds came from buyers outside the UAE, including India, Egypt, Ghana, Nigeria and South Africa.
The first 2021 Dubai auction will take place in March, with bidding opening on March 16 and ending at staggered times on March 23 and 24. The Ritchie Bros. local team is busy working with businesses in the Middle East and further afield to add inventory to the auction, which will take place entirely online. The auction is unreserved, meaning all items will be sold to the highest bidders, without minimum bids or reserve prices, resulting in guaranteed sale of the equipment.
Although the auction will be held online, interested bidders or their representatives can visit the Ritchie Bros. Dubai site in Jebel Ali Free Zone to view items in person from March 16, 2021.
For a complete list of equipment, or to list any assets, visit rbauction.com/dubai.
About Ritchie Bros
Established in 1958, Ritchie Bros. is a global asset management and disposition company, offering customers end-to-end solutions for buying and selling used heavy equipment, trucks and other assets. Operating in a number of sectors, including construction, transportation, agriculture, energy, oil and gas, mining, and forestry, the company's selling channels include: Ritchie Bros. Auctioneers, the world's largest industrial auctioneer offers live auction events with online bidding; IronPlanet, an online marketplace with featured weekly auctions and providing the exclusive IronClad Assurance® equipment condition certification; Marketplace-E, a controlled marketplace offering multiple price and timing options; Mascus, a leading European online equipment listing service; and Ritchie Bros. Private Treaty, offering privately negotiated sales. The Company's suite of solutions also includes Ritchie Bros. Asset Solutions and Rouse Services LLC, which together provides a complete end-to-end asset management, data-driven intelligence and performance benchmarking system. Ritchie Bros. also offers sector-specific solutions including GovPlanet, TruckPlanet, and Kruse Energy, plus equipment financing and leasing through Ritchie Bros. Financial Services. For more information about Ritchie Bros., visit RitchieBros.com.