Richard farms is located in Horsham Downs, a small locality of about 700 people on the eastern bank of the Waikato River, located about ten kilometers away from Hamilton, the fourth largest city in the country.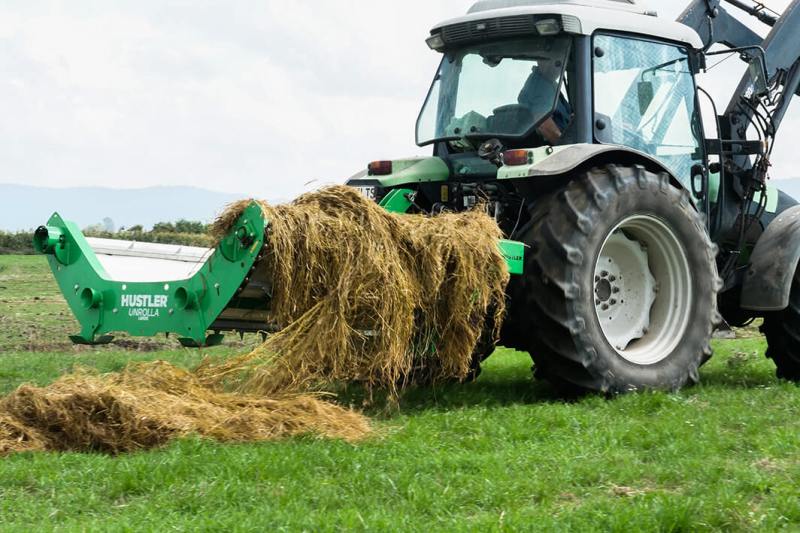 Richard has been farming for about 20 years in the region. The Waikato region had the largest share of dairy cows in New Zealandnat 22.4%. Indeed, the Waikato climate which tends to have warm, humid summers and mild winters is particularly suited for dairy farming with a good average grass growth rate.
Richard's 220 dairy cows are milked on a once-a-day (OAD) system. This milking regime relatively common in New Zealand, used either as the overall farming system or tactically as a short-term response to adverse seasonal conditions.
Richard has owned another brand of bale feeder in the past, but there were a lot of moving parts and he broke the chain several times. He got tired of having to spend time in the workshop or at his dealer's to fix the machine. So, he recently bought a Unrolla LM105 mounted bale feeder from his local Hustler dealer, Power Farming Morrinsville.
"I changed to Hustler because my other bale feeder had a lot more moving parts and would break chains fairly frequently."
Richard has already adopted his new Hustler bale feeder, which was very easy to get to grips with. He is delighted with it, noting that it is robust and has far fewer moving parts. Richard only needs to grease the four nipples of the self-aligning, fully sealed block bearings to maintain his machine.
"The Hustler brand seems to have a lot less moving parts, (and) just seems very robust."
Richard particularly likes the time-savers that come as standard on the machine. For instance, the unequal length tynes are a handy feature for quick and easy alignment when reconnecting the cradle, even on uneven ground.
"It just makes it so much easier to back the tractor and to hook up the buggy part of the bale feeder,"
Richard explained.
"Previously, I used to have to come on on a bit of an angle with my old bale feeder that forks were the same length."
With a 100% hydraulic system, there's not much that can go wrong with this unrollabale feeder. Moreover, the drive system is very simple: the hydraulic motor is located on the headstock and drives a pin that connects to the drive shaft when reconnecting the cradle to the headstock.
Investing in a Hustler bale feeder was also about additional peace of mind for Richard. It is a machine with a very robust chassis that is built to last.
The Unrolla range all come with strong 40 x 40 mm feed bars and zinc-plated chains rated to 24,000lbs. Not to mention the single piece fully enclosed floor in polyethylene, it's non-corrosive, impervious to UV and very shock resistant.
"I would definitely recommend the Hustler LM105 bale feeder to any other dairy farmer."
Source: Hustler