The Italian Pavilion at CONEXPO-CON/AGG 2023 is proud to announce its participation in the largest construction trade show in North America. The Pavilion, set in the Silver Lot 1 S5042, covers an impressive 6,400 square feet and showcases more than 25 top Italian companies in the construction industry.
Organized by the Italian Trade Agency (Houston Office) with the support of three major Italian Industrial Associations – Unacea, ANIMA, and UCoMESA – the Pavilion presents a comprehensive display of construction equipment, from earthmoving tools to customized components and advanced fuel solutions.
The official list of participating companies includes G.B.M. Building Equipment, A.C.S.A. Steel Forgings, Outset, Condor, Emiliana Serbatoi, Safi Group, Mantovanibenne, Industrial Lift, Dagso, Drago, Kiwitron, Officine Malaguti, Idromeccanica Italiana, Tracmec, Neron Pumps, Mediapoint, Oleoweb, Carmix, Edil Euganea, Settima Meccanica, 76 Industrial Design, Mechbadger, MiniTop, S.I.BO. Societa' Italiana Boccole, M3 Metalmeccanica Moderna, and Remdevice.
With its world-renowned reputation for quality and design, Italy will be presenting a range of cutting-edge products and services that will leave a lasting impression on the thousands of visitors expected to attend the event. The pavilion will be a hub of activity, with each participating company eager to share their expertise and knowledge with attendees.
In particular, Italy will host a "Happy Hour networking event" every afternoon from 3 to 5 pm, complete with hosts, presentations, and refreshments for all visitors.
March 14th – The ribbon cutting ceremony of the Italian Pavilion with representatives of ITA and UNACEA.
Also, a good opportunity to discover the latest project of CDP Italia, the Business Matching Platform, an eight languages, private meeting digital room tool to support and strengthen economic and business relations between Italian and US companies.
March 15th – Network with the American Associated Equipment Distributors.
AED President & CEO, Brian McGuire will join the Pavilion and give a brief remark about the distribution channel for construction equipment in the USA.
March 16th – Explore the US market of construction machinery with data and insight from AEM.
Fred Vieira, AEM Director of International Business, will address the audience.
March 17th – latest trends and insights in the construction building machinery industry in the USA with KHL, the global, diversified media business focused on construction
With CONEXPO 2023, ITA announces the introduction of the Italian Pavilion Booth Crawl Challenge being held every day of the show in Vegas.
Check the Italian pavilion events agenda.
The Booth Crawl Challenge provides attendees with a fun way to explore the expansive show floor, by visiting participating exhibitors and show features along the way. The first 100 attendees who complete the 5 or 10 stops Booth Crawl Challenge using the dedicated card will receive ITA-branded gifts.
Attendees can participate by picking up the Booth Crawl card at the ITA booth (#S5042), choosing their favorite 5 or 10 stops tour among the 26 Italian exhibiting companies of the pavilion, collecting stars (proof of visit), and dropping off their completed card (with proof of completion) at the ITA booth again.
Italy is the 8th supplier of construction machinery for the US with a total export of over 600 million USD in the 2022: an increase of 30.5% since 2021. Alone, Italy holds the 3.37% US import market share of the construction machinery sector, a position that places Italy at the level of countries like China and Canada. The USA is, to Italy, the third major market destination for the construction machinery industry ranking behind France and Germany.
"We are thrilled to participate in CONEXPO-CON/AGG 2023 and showcase the best of Italian construction equipment and technology. This is a great opportunity for us to connect with industry professionals from all over the world and promote the innovation and quality of our products."
said Fabrizio Giustarini, Italian Trade Commission of the Italian Trade Agency for the Italian Pavilion.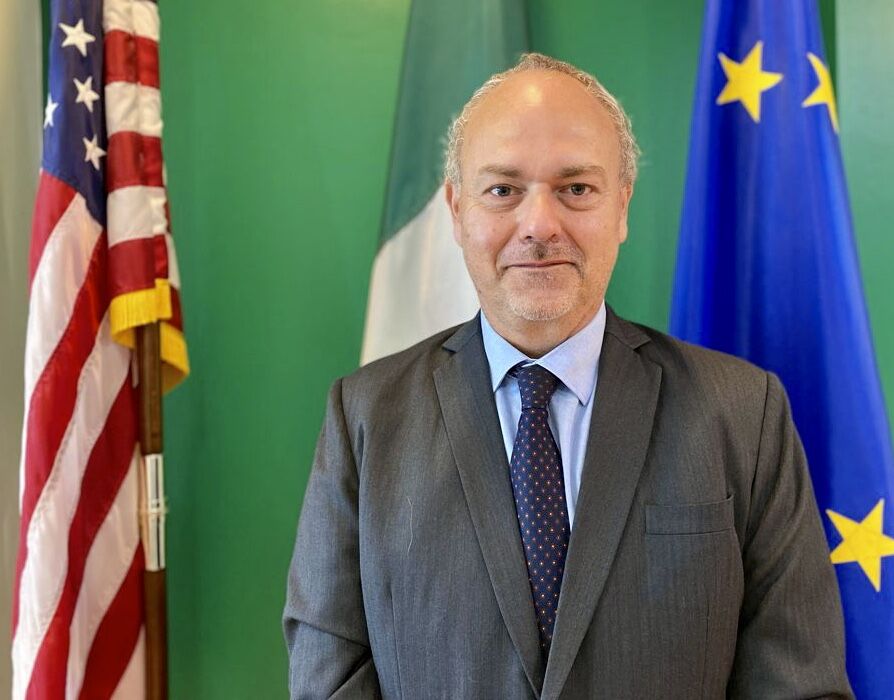 ---
About Italian Trade Agency
ITA – Italian Trade Agency is the Governmental agency that helps the business development of Italian companies abroad and promotes the attraction of foreign investment in Italy. Its activities are part of the Official Mission of Italy to the United State and are supported by the Ministry of Foreign Affair and International Cooperation. With a worldwide network of 79 offices in 65 countries (5 in USA), ITA provides information, assistance, consulting, promotion and training to Italian small and medium-sized businesses to assert the excellence of Made in Italy in the world. The Houston Office, which has organized the Italian presence in Las Vegas, mainly oversees the following industrial sectors: aerospace, agricultural machinery and equipment, construction and earthmoving equipment, glassworking equipment, oil & gas, textile machinery, woodworking equipment and jewelry.
About UNACEA
Unacea is the Italian association for construction equipment, representing both multinational firms and a large group of SMEs with a very high rate of internationalization. Unacea is the Italian member of CECE, the European committee for construction equipment based in Brussels, representing around 1,200 companies that employ 130,000 people directly, with a turnover of €25 billion.
About UCoMESA
UCoMESA – Italian Association of Construction Equipment Manufacturers created in 1951 within ANIMA (Federation of Italian Mechanical and Engineering industries associations), Ucomesa gathers the most qualified, major Italian manufacturers of construction equipment and machinery. Ucomesa members are distributed into the following six product groups: Excavation, drilling, boring and pile driving equipment; Aggregate processing equipment; Concrete production, transport and pouring equipment; Tower cranes; Road construction equipment; Prefabrication, materials testing, construction materials production, etc. Ucomesa is particularly focused on matters related to export and carries on either directly or in co-operation with ITA/ICE Agency promotional activity which includes participation in several trade fairs both in Italy and abroad.

About ANIMA
ANIMA Confindustria Meccanica varia, founded on 14 February 1914, is the Confindustria system's industrial organization that represents companies operating in the mechanical engineering sector. The Federation is made up of 30 associations and product groups, and has over 1,000 member companies, more than 220.000 employees, representing the 58,3% of the Italian total export sales for Construction equipment, machines and other building products.
The post 26 Leading Italian Companies to Display Best of Construction Equipment and Tech at CONEXPO 2023 appeared first on USA HeavyQuip Journal.