Attending a trade show is always an overwhelming and exciting moment, especially if you are in the construction industry. But if the trade show is CONEXPO/CON-AGG, the largest Construction industry trade show in North America, it may be just one of the best experiences you can have in life.
Crushing all expected attendance records, the 2023 edition of CONEXPO-CON/AGG has signed the return of live events in a post-pandemic world, demonstrating how clearly the Construction Equipment industry is ready to do business face to face.
Drawing over 139,000 construction and fluid power professionals from 133 countries to Las Vegas from March 14-18, the triennial event hosted 2,400 exhibitors from 36 countries spread out over 3 million square feet of exhibit space.
After five fully-packed days of innovative product launches, press events, meetings, educating sessions and networking experiences, after letting my eyes be filled with stories, innovation and all the best you can imagine from the construction industry, after exchanging smiles, impressions, and handshakes with so many extraordinary people, there comes a time to look back at those amazing memories collected and draw some conclusions. Here are my takeaways:
The Construction Equipment industry is keeping momentum and machinery demand will stay strong
Despite the ongoing challenges of high interest rates, energy and material prices supply-issues, as well as the continuing struggles recovering from the impacts of the COVID-19 pandemic, the equipment manufacturing industry is returning to growth. After decades of talk on rebuilding America's crumbling infrastructure, in 2021 President Biden delivered the Bipartisan Infrastructure Law – a historic investment in America that will get America moving again. As outlined by the latest AEM Economic Impact Report, the return to growth is part of a broader rebound in U.S. manufacturing output, which saw nominal output increase by an estimated 14% in 2022. During a conference held on the first day of the show, AEM President Megan Tanel, showed confidence and optimism for the upcoming months:
"The equipment manufacturing industry has shown time and again that it is a resilient force in the North American economy, weathering everything from global pandemics to supply chain disruptions with strength and determination. As we look to the future, we can be confident that this industry will continue to adapt and innovate in the face of new challenges, providing stable jobs and economic opportunities for communities across the continent,"
Equipment manufacturing jobs in the U.S. are highly skilled and everyone can enjoy them.
Workforce retention issues are still a matter of concern, but there's hope among equipment manufacturers. AEM has underlined its continuous strong commitment to face this ongoing issue plaguing the industry. As 2023 AEM Chair and Komatsu North America Chairman and CEO Rod Schrader has outlined, getting more people in the industry is AEM top priority, in a joint action with U.S. government. All in all, numbers are already significantly relevant: The equipment manufacturing industry supports more than 1,000 jobs in 44 states, with a total employment impact of more than 10,000 in 32 states. The top 10 states support a total of 1.6 million jobs.
3. America is embracing the Green Revolution, but contractors still need to make money.
At CONEXPO the concept of sustainability was echoing at every corner of the exhibition. The global initiatives to reduce carbon emissions to net-zero by 2050, have pushed companies to find ways to lessen diesel's carbon impact. A variety of different solutions is being considered: replacing the diesel engine altogether, reconfiguring the engine to run on lower-carbon fuels and making the diesel engine as efficient as possible. Big manufacturers are all concerned with delivering sustainable solutions to allow contractors to reduce their emissions and comply with local or federal regulations. Zero emissions machines, electrification, hydrogen-powered engines, infrastructure changes are all central topics that need to be further explored in the following times. The path is still long and requires patience and experimentation, but the industry is on the making
Technology boost.
Working on the Green Revolution side, I had the privilege to touch and feel the amazing job the brands are doing on their equipment. To boost safety and comfort by AI, enhancing data-driven predictability on faults and connected machines improving TCO performances, tracking carbon footprint emission are the outcomes of the digital transformation the construction industry is living. Rapidly increasing customer demand and a shrinking workforce have boosted the demand to the challenges facing the sector.
The contractor of the future will gather data more than materials
In the face of the many changes brought on by electric, autonomous and connected technologies, the construction site of the future will see an implementation of tools, devices and vehicles used to connect and generate data to help the contractors perform better. The advantages of a faster, digital, more reliable worksite represent a huge step forward in connectivity, offering great potential in the construction industry for processing mobile data, which impacts the ways machines communicate and interact remotely.
Rise of multipurpose and compact equipment
With worksite gaining in complexity, customers feel the urgency to get machines that can be versatile and easy to manage. For this reason, CONEXPO has made it clear how multipurpose machines as well as attachments and tilt rotators are on demand these days. Construction pros are looking for productivity and for ways to reduce costs.
Compact equipment's versatility, flexibility and transportability provide this opportunity.
All things considered, a challenging full immersion into the construction industry such as CONEXPO-CON/AGG 2023 has given me the possibility to embrace and better understand the world we are building.  The show has shown the strength and resilience of this industry, along with its unceasing push towards adaptation and innovation. Coming back home, I feel grateful for having been able to fill my backpack with such amazing memories and can't wait to see what next edition in 2025 will have in store for us.
Emanuele Giovannini
P.S.
Driving an electric excavator is much easier and more fun than I expected.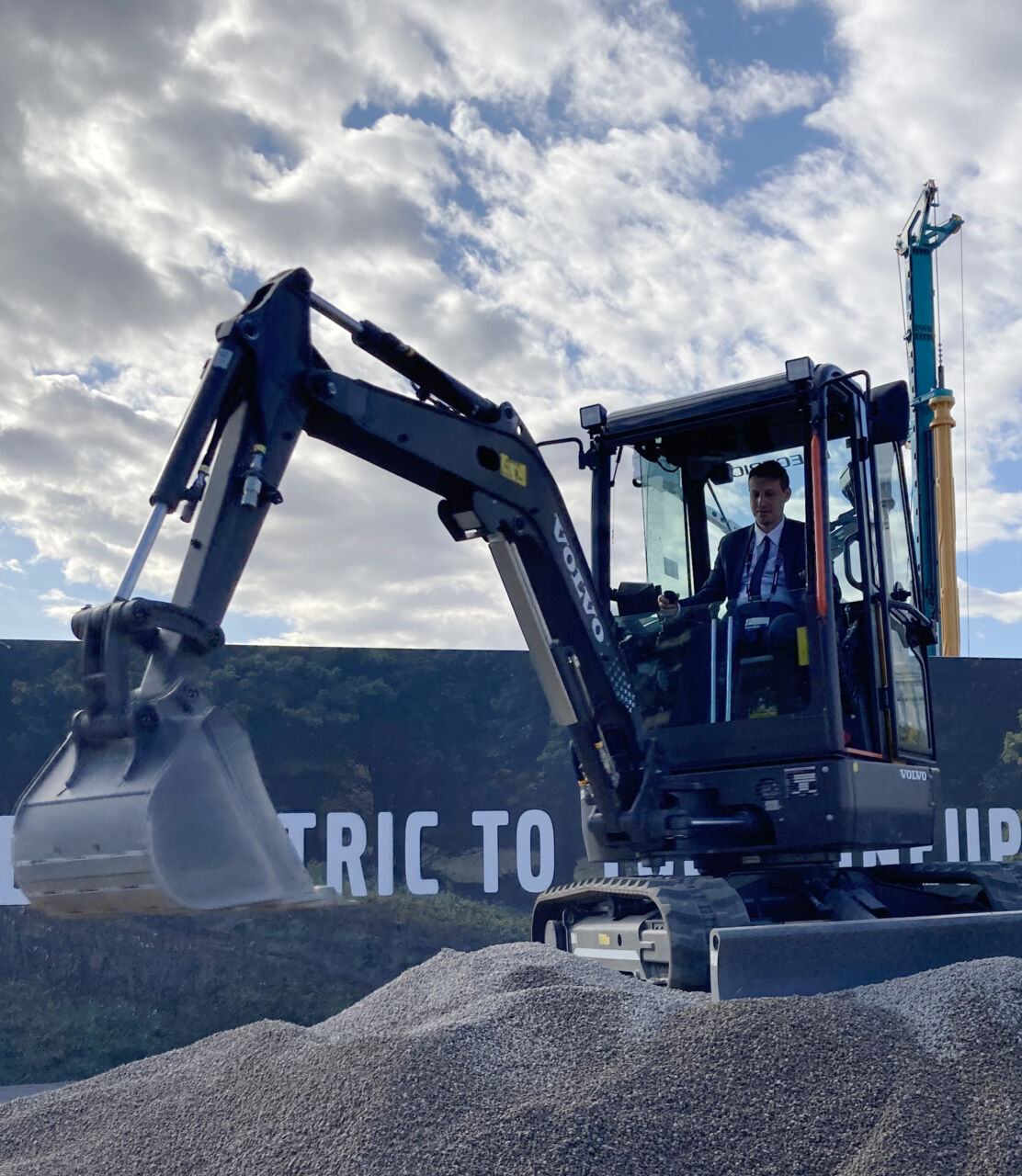 The post CONEXPO/CON-AGG 2023: Editorial by Emanuele Giovannini appeared first on USA HeavyQuip Journal.