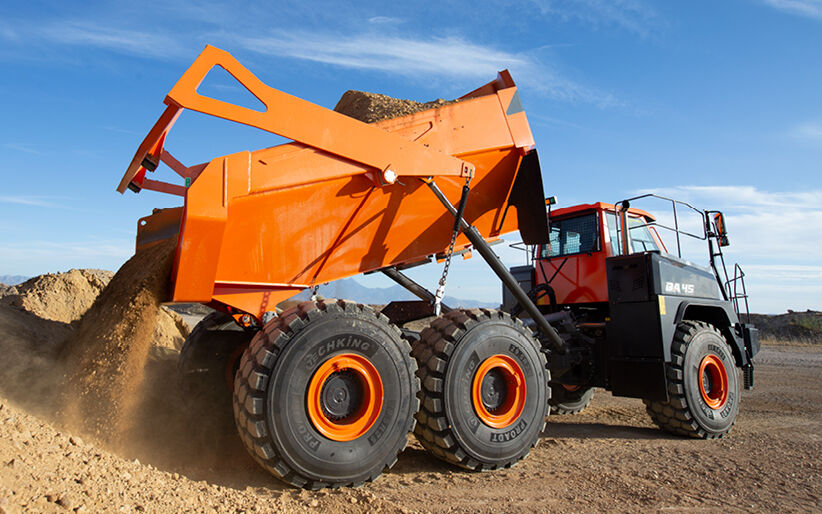 The DA45-5 was display during CONEXPO-CON/AGG 2023 in the DEVELON booth. The DA45-5 Articulated Dump Truck (ADT) offers power, technology, comfort and larger payload capacity. The 45-ton ADT helps customers who regularly operate on large construction sites, in quarries or in mining operations.
Payload Measuring System
The DA45-5 comes standard with an active payload measuring system for increased productivity and reduced cycle times. The system provides ADT operators with improved truck management and load optimization by helping to protect against extensive overloading. Operators can view each load's weight on the LCD screen in the cab.
Driveline Updates
Customers can count on better weight distribution for extreme performance and traction in off-road conditions. Unique design features — such as the tandem housing — set the trucks apart from those of other ADT manufacturers. The DA45-5 has a front-mounted turning ring, sloping rear frame and free-swinging rear tandem bogie to ensure permanent 6-wheel ground contact. The limited slip differential delivers the highest torque to the wheel, offering the best traction.
Self-Leveling Front Suspension
The hydro-gas, self-leveling front suspension system of the DA45-5 provides superior performance and greater shock absorption — which means a smoother ride and improved operator comfort especially when the machine is empty. The system includes a self-leveling feature and the ability to change characteristics by adjusting the pressure.
When it's time to head out to another job, the machine's less-than-12-foot width makes it easier to transport from site to site.
Easy Serviceability and Maintenance
Key service and maintenance points, including ground-level fuel and DEF fill, more accessible power module and a centralized maintenance panel, make required daily service checks and maintenance procedures more convenient for customers.
Common oil is used in the DA45-5 wheel hubs, tandem rear bogie and limited slip differential, and grease distribution is improved to reduce grease requirements. A diesel-powered engine heater and fuel pump are available as options. The DA45-5 articulated dump truck includes telematics for monitoring the machine's health, location and productivity for the life of the machine.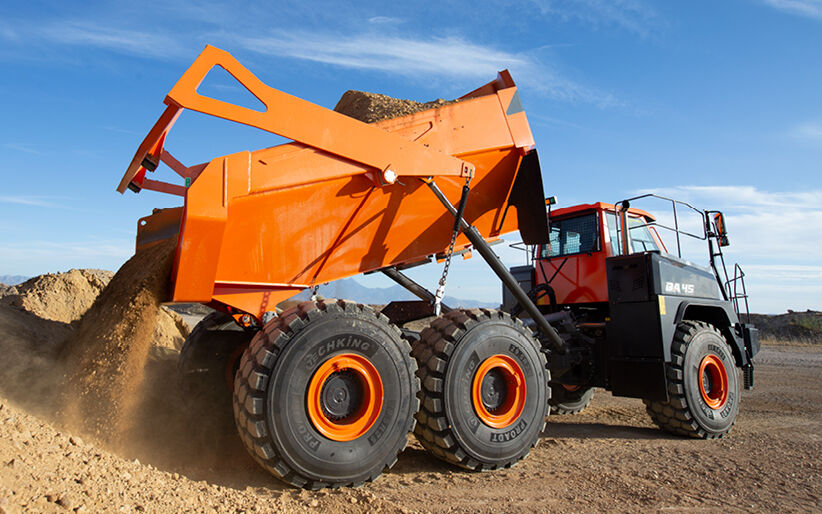 Unmatched Interior Cab Comfort
The DA45-5 cab interior provides better ergonomics and more operator comfort. Unparalleled cab comfort features include fully automatic climate control, an air suspension seat, precise steering, exceptional visibility and low noise levels. Ergonomic controls are at your fingertips and a soft-touch dashboard is easier to keep clean.
The vehicle control unit includes robust hardware, a faster processor and more input channels. The monitor displays critical information, including speed, engine rpm, machine warnings and more — and offers bigger gauges, user-friendly graphics and the ability to display multiple camera views. Standard features include electrically adjustable mirrors and a mobile USB charger.
The post Develon Articulated Dump Truck Helps Contractors Get the Most out of Quarries and Mining Sites appeared first on USA HeavyQuip Journal.